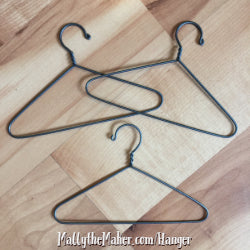 If you're as addicted to making doll dresses as I am, this little hanger will definitely come in handy! This hanger is perfectly sized to fit the Ms. Bunny doll dress pattern.
This little hanger is also perfect for displaying narrow quilts, jewelry, and even your favorite fabrics!
The hangers come in sets of three so you'll have to make Ms. Bunny lots of dresses to wear and display. Click Here to find the Ms. Bunny sewing pattern.